BAITFISH STENCILS – Attract Game Fish To Your Boat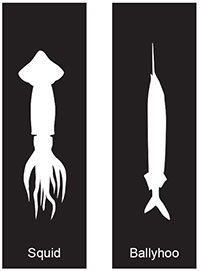 Simply apply the Ballyhoo Fish Pattern or Squid Pattern onto the bottom of your boat hull in a contrasting color with SMART SOLUTION or MISSION BAY CSF antifouling paint with the easy-to-use stencil to fool your target fish species into thinking it is seeing a school of ballyhoo or squid swimming under your boat. Then watch the game fish swim right up to your boat within easy casting or trolling range. Application is easy.
Easy application steps:
NOTE: It is recommended to have a Sea Hawk premium antifouling bottom system on your boat hull to prevent organic growth, such as barnacles and slime.
Clean your boat hull bottom thoroughly by removing all grease, oil, wax and other foreign material by solvent or detergent washing.
Using painters tape, secure the stencil in the desired position on your hull bottom.
Using a 3/8 inch nap 4 inch wide paint roller, roll SMART SOLUTION or MISSION BAY CSF antifouling paint over the stencil to apply the pattern to your hull bottom. Be sure to use a contrasting color of SMART SOLUTION or MISSION BAY CSF so the bait pattern is clearly visible from a distance. For example, if your hull bottom is black, use white SMART SOLUTION or MISSION BAY CSF.
Repeat Steps 2 and 3 with the stencil placed
in various positions to create a "school of bait" pattern on your hull bottom.
Clean the stencil with xylene after use and store flat for future applications.
Start catching more fish!