More Boatyards are Choosing Sea Hawk Antifouling Solutions
March 17, 2017
In today's fast-paced boat maintenance market place, more boatyard operators and marine service professionals are choosing Sea Hawk antifouling paints and primers than ever before. That's because Sea Hawk's value proposition is unmatched in performance, range, availability, support and warranty – making Sea Hawk the fastest growing premium bottom paint brand in America.
Advanced Chemistry Tailored to Customer Needs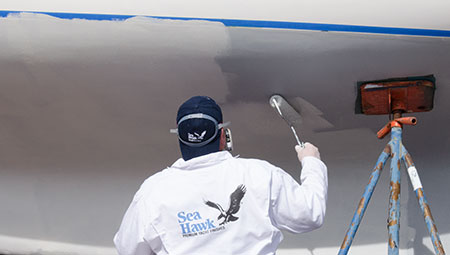 Sea Hawk bottom paints and primers are formulated to provide the highest performance in their respective categories. Each intended for specific applications, which enables service pros to recommend the ideal coating system for every customer's needs and budget. Incorporating only the finest ingredients, like the highest purity U.S. copper with ultra-fine grind, gives Sea Hawk top performing paints an optimum and consistent release rate for superior antifouling performance. Every batch of Sea Hawk paints is handcrafted and quality assured to adhere with the stringent testing standards maintained by the American Society for Testing and Materials.
Bottom System Solutions for Every Vessel
Be it top performing dual-biocide, self-polishing copolymer, hard modified epoxy, water based, or metal free antifoulings, there's a Sea Hawk solution for virtually every boat. The complete and up-to-date assortment of bottom paints, primers and specialty products makes the Sea Hawk line a virtual one-stop-shop for every bottom job. That streamlines boatyard quotations and simplifies on-hand inventory requirements, which reduces both time and operating costs for boatyard operators and paint subcontractors alike.
Just-In-Time Convenience
Available from industry leading marine distributors, Sea Hawk paints and primers are easily accessible for immediate delivery, even the same-day in many cases. So, boatyard operators can count on getting their jobs done on time without the complications of advance ordering and the burden of up-front payment. This valuable distribution service reduces company spend and improves cash conversion cycles. Collectively, Sea Hawk's distribution partners improve customer satisfaction, yard profitability and cash flow while making day-to-day operations easier.
Expert Training and Technical Support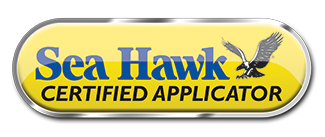 Whether it's assessing future needs for a customer or analyzing a boat hull, Sea Hawk has the field representative to help get bottom jobs done right. Sea Hawk's field representatives are experienced professionals trained to solve marine coating technical and sales challenges and help boatyards grow their clientele, revenues and boost their bottom lines. Sea Hawk field representatives work in tandem with boatyard operators, service professionals, distributors, boat owners and their captains to ensure the ideal bottom system is specified and applied to for each vessel's individual needs. Never at a cost to the boatyard, this value-added-service coupled with Sea Hawk's Certified Boatyard/Applicator program ensures boatyard owners of profitable repeat business for years to come.
Peace of Mind for Boatyards and Their Customers
Nothing is better for boatyards and their customers than the peace of mind that comes from knowing that fresh bottom jobs are backed by the industry's best written guarantee. That's because New Nautical Coatings, Inc., Sea Hawk's parent company, warrants certain Sea Hawk antifouling paints to be free of all defects in material and workmanship and to deter hull fouling from hard growth including all types of barnacles, corals, oysters, or zebra mussels for a period of one year (12 months), from the date of product application by a Certified Sea Hawk Boatyard/Applicator. Boatyards and applicators find significant competitive advantages in becoming Sea Hawk Certified for this reason. To learn how to become a Certified Sea Hawk Certified Boatyard/Applicator contact Sea Hawk at: contactus@seahawkpaints.com.