First Place Regatta Winner Crosses Finish Line With Sea Hawk Bottom!
April 25, 2013
Every year, the BVI Spring Regatta
closes with bittersweet memories of sailboat racing in those dependable
tradewinds of the "Sailor's Capital of the World". As a premier sponsor
of many Caribbean regattas each year, Sea Hawk Paints is proud to salute
the dedicated sailors who come back year after year to celebrate the
joy of Caribbean sailing.
But most rewarding is for a racing yacht to cross the finish line FIRST with a Sea Hawk bottom!
Hats off to Bob and Kristin Beltrano, owners of Nai'a, a
Swan 53 for finishing FIRST in the CSA Division – Jib & Main 1. Bob
and Kristin use Islands 44 bottom paint and have been cruising the
Caribbean and US East Coast since 2000, spending summers in Annapolis
and winters in Tortola at Nanny Cay. With this infamous event on their
doorstep, they entered the race to challenge any other Swan yachts
taking part, even though they were admittedly "the only boat racing with
a cappuccino machine, full freezer and a 40′ HDTV on board!" exclaimed
Beltrano. Congrats, Nai'a captain and crew, on this amazing victory!
2013 BVI Spring Regatta and Sailing Festival Final Cumulative Results.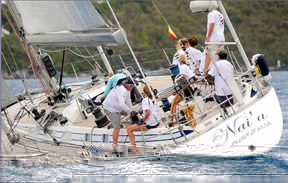 Nai'a
photo by Todd Van Sickle –
Nai'a's
winning crew
BVI Spring Regatta
Sea Hawk's Denis Laesker and Kathy Hester Mays (pictured above, right)
hand out trophies to the 3rd place BVI Spring Regatta winner – Boonasta
Mary Orme
April 2013 Eblast Feature Article