GRAND CAYMAN: WE WENT TO HELL AND BACK, AND MORE, AND HAD A BLAST!
July 27, 2015
GRAND CAYMAN: WE WENT TO HELL AND BACK, AND MORE, AND HAD A BLAST!
by Bill and JoAnne Harris
We arrived in beautiful Grand Cayman after a bit of a bumpy passage from Haiti. It was a very stormy and rainy morning, and we headed straight for George Town, Grand Cayman.
The Cayman Islands consist of 3 islands: Grand Cayman, Little Cayman and Cayman Brac.  Upon arrival in George Town, we contacted the Port Captain and notified him we had arrived and were ready to check in.  He advised us to please come as soon as possible, since there would be an overtime fee if we came later.  It was a holiday, so the fees after a certain hour would increase from $0 to $70.  The great news is unless it is overtime or a holiday, checking into Grand Cayman is absolutely Free!  We were asked by the Port Authority to tie our boat to the government dock.  It was a quite intimidating concrete dock, but we had great helpers from the supply boats and port crew to assist.   The check-in went smoothly and we were in and out in no time.  After check in, we untied the lines and headed back out to the mooring field and picked up one of the free moorings. The harbour in George Town is dotted with mooring balls.  They are free and every vessel  must pick up a mooring ball, anchoring is prohibited. While snorkeling underneath ULTRA, we were able to see schools of 5 ft. Tarpon, spotted eagle rays, gray reef and nurse sharks, sea turtles and spectacular coral formations complete with swim throughs and covered with  colorful fish.
There is a public dock where cruisers can leave their dinghies, or if you ask nicely you might be able to do as we did, and leave your dink at The Lobster Pot Dive Shop and Restaurant. You can get your dive tanks filled there and also rent scuba gear.
While in Grand Cayman, we experienced another public holiday, Election Day.  We were advised that no alcohol would be served until 7:00 p.m. when the polls had closed and many of the local shops and restaurants were shutdown until then, too. We scuba dove the USS Kittiwake once again in the morning and in the afternoon headed to town and watched some of the rallies that took taking place downtown, some amazing entertainment, inspirational speeches and people watching.
An important thing  to remember while visiting Grand Cayman is it can be a bit pricey, depending on what you are purchasing. For us being US citizens and operating with the US dollar, the Cayman Island Dollar was $1.25 for every US$1.  The wonderful thing about this island is that there is alot more to it than high rise financial institutions, condos/hotels and numerous high end shops and restaurants. There are charming settlements and pristine beaches dotting it with very friendly residents to be explored that are more for smaller budgets.
There are several hardware, house wares, countless duty free shops, and  of all kinds of places to purchase items for your boat or yourself.  The grocery stores  are outstanding and carry everything under the sun to provision your boat to the gills Gourmet Style! Grand Cayman is also the home of the famed Tortuga Rum Company.  We made it part of our routine while on our bike rides of the island, to stop here and purchase a Jamaican Patty and a coconut water.
There is also a great local bus transportation available for getting around with  heavier items in tow. The average bus fare we paid at the time was between CI$2.00 and CI$4.00, depending on our destination. Taxis and car rentals are also other options available.
When we were not diving, we were riding our bikes all over the place.  We have carried bikes aboard Ultra for all these years, since they are a great way to explore the islands we visit. Here, we loaded them up in the dink and headed to shore to explore. Our first bike ride adventure, was our ride  to Hell.  Yes, we said Hell.  The area we are speaking of is located in the Northwest Grand Cayman town, West Bay.  It consists of a football sized area full of limestone spires that rise up from the earth, that some say must resemble Hell.  Here, you can even send a postcard from the Hell post office, and pose for a photo as either an angel or a devil. During our stay,  we continued exploring more of this amazing island.   We explored all of the areas of the island we could via bike such as the extraordinary Camana Bay community, countless pristine beaches, and more.  The drivers on the road are very courteous to bike riders, so it is very easy and safe to get around.
There is also a Turtle Farm and Wildlife Encounter, located in West Bay, where hands-on educational tours are given.  When Christopher Columbus first sighted the Cayman Islands in 1503, he named these islands Las Tortugas, since the waters all around them were teeming with sea turtles. Unfortunately, ships sailing through began provisioning with turtles and feeding the meat to their crew, and severely depleted the turtle population. With this turtle farm in place, the turtle population has made a remarkable recovery. This island is also famous for the illusive and breathtaking Blue Iguana. It can grow to 5 ft. long and weigh over 25 lbs.
To celebrate our wedding anniversary, we organized a Jet Pack Adventure for Two. On a daily basis, we had seen the Jet Pack owner, Chris, come buzzing by our boat and the cruise ships doing all kinds of sporty moves in the harbour. A few days later, we met up with him at the famous Seven Mile Beach and booked a reservation.  The Jet Pack was an amazing experience for both us! It was like we were  flying and we were able to go as high as 30 ft. in the air.   It was the sensation of a lifetime!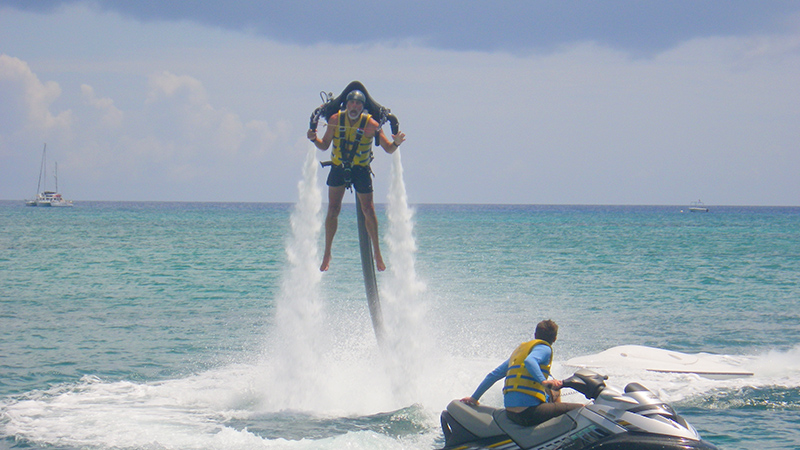 We decided to slip the mooring and set off for the North Sound to get fuel at the beautiful Barcadera Marina and the George Town Yacht Club which had a full menu of tantalizing island cuisine.  After that, we headed to the ever famous Stingray City, dropped the hook, collected our snorkel gear and jumped in.  The wonderful part of this experience is that the stingrays have been going there for years and years.  The fishermen from days gone by, cleaned their catch here, so the stingrays soon discovered there was free food to be found in this waist-deep water. We had taken with us some conch guts from our freezer that we normally use as fish bait.  The stingrays were like pets and were in heaven; all over us trying to suck the bounty from our fingertips. There were swarms of male and female stingrays all around us.  The females were enormous and were all over us, while the significantly smaller males circled at our feet devouring the  scraps.   Some Stingray Trivia: We learned from a Caymanian that it takes two male stingrays to get one female stingray pregnant.  After playing with the stingrays for a couple of hours, it was time to head back to the boat for a  sundowner. We witnessed a beautiful sunset while being the only boat anchored there. When the night set in, we were then under the bright full moon with the shallows glowing as if neon lights were beneath
We love to scuba dive and since we have our own equipment, it was trouble-free to dive in Grand Cayman. We just loaded up the equipment and picked a dive spot. The diving was phenomenal with a kaleidoscope of wrecks, deep walls, and shallower reefs from which to choose.  A few of  our favorite dives were the USS Kittiwake, Oro Verde, and Doc Polson. The abundant sea life, swim throughs and swarming tropical fish were a true delight!
In all of our years of sailing, traveling and listening to our cds of Barefoot Man, we have never seen him perform in person. Well, Grand Cayman was our chance. This island is his home, and he was performing at the waterfront restaurant The Wharf, and the mooring we were on was directly in front of it.  We went with friends from Spain that new the owner of the restaurant. We met Barefoot Man and his Band and enjoyed some drinks, great  music and lots of dancing.
We arrived in Grand Cayman, thinking we would just be there for a week.  We loved it so much, we stayed another week.  Then as fate would have it, a series of storms blew through the direction of our next passage to the Bay Islands, so we ended up being in Grand Cayman for 5 weeks. No complaints, the weather, beaches, dives, hikes, and sites were spectacular!
We hope you get the opportunity to travel to this extraordinary place. Yes, there are tremendous shopping opportunities, however the real opportunities are the countless outdoor adventures yet to be experienced! We truly enjoyed every minute of our trip to Hell and Back and More during our stay in incredible Grand Cayman and we hope you do too.
(Trivia: The remains of Donald Crowhurst's trimaran "Teignmouth Electron" are on Cayman Brac. He had participated in the 1968 Golden Globe Race.)
JoAnne and Bill Harris are from Clear Lake, Texas and both hold 100 ton USCG Master Licenses and sail aboard their trimaran, S/V ULTRA. They enjoy writing cruising articles and sharing their experiences. To follow their sailing adventures please go to: www.jandbyachtultraadventure.blogspot.com