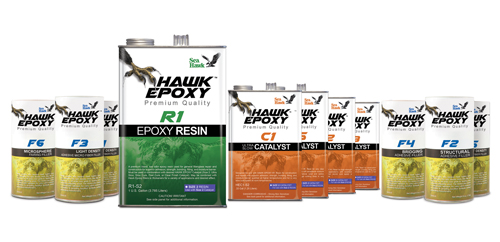 This state-of-the-art epoxy system is for building and repairing boats, planes, surfboards, canoes, and many other substrates. There are also a multitude of home construction and repair projects perfectly suited for Hawk Epoxy.
The foundation of our epoxy system is our R1 Epoxy Resin which fulfills all of the different application needs with its eleven-part catalyst and fairing options. Bonding, fairing, coating, waterproofing and air exchange reduction have never been simpler.
Precise Product Selection
Hawk Epoxy's color-coded sizing system procedure ensures accuracy. It is available in three sizes, which are color-coded on each resin and catalyst label. Mix ratios vary depending on which catalyst is being used, for optimal product utilization, be sure to choose the same size for both the resin and catalyst.

Color-Coded System Sizing full details here

Download the Hawk Epoxy Brochure here
Hawk Epoxy Resin And Catalysts
Any of the six Hawk Epoxy Fillers can be used with any combination of Hawk Epoxy Resin and Catalysts, giving the user a large range of epoxy blends, all within a single system. If you need a fast cure due to schedule constraints or if you need a very thick fairing compound, Hawk Epoxy has the situation covered. After the application is cured, it can be sanded into a fine-tuned shape for the highest-quality finish.
Hawk Epoxy Fillers
The Hawk Epoxy Pump Kit is for accurately measuring Resin to Catalyst ratio. The Pump Kits come in two sizes, one kit accommodating the Size 1 and 2 Resin and Catalysts, and one kit accommodating the Size 3 Resin and Catalysts. The Kits contains one R1 Resin pump, one C2 & C3 Catalyst pump and one C1 & C5 Catalyst pump.
The Hawk Pump Kit User Manual explains how to use the pumps for accurate measuring, how to prime the pumps, pump cleaning and storage, and how to use the pumps with various Hawk Epoxy System Sizes.
Download the Hawk Pump Kit Size 1 & 2 User Manual here
Download the Hawk Pump Kit Size 3 User Manual here
Hawk Epoxy Pumps
Hawk Epoxy Coverage Specifications
Saturation coat porous surfaces
PACKAGE SIZE 1………. ( R1 : C3/C2)…………………. 93–108 sq ft
PACKAGE SIZE 1………. ( R1 : C5/C1)…………………. 93–108 sq ft
PACKAGE SIZE 2………. ( R1 : C3/C2)…………………. 353–408 sq ft
PACKAGE SIZE 2………. ( R1 : C5/C1)…………………. 373–433 sq ft
PACKAGE SIZE 3………. ( R1 : C3/C2)…………………. 1533–1788 sq ft
PACKAGE SIZE 3………. ( R1 : C5/C1)…………………. 1678–1958 sq ft
Buildup coats non-porous surfaces
PACKAGE SIZE 1………. ( R1 : C3/C2)…………………. 123–138 sq ft
PACKAGE SIZE 1………. ( R1 : C5/C1)…………………. 123–138 sq ft
PACKAGE SIZE 2………. ( R1 : C3/C2)…………………. 465–523 sq ft
PACKAGE SIZE 2………. ( R1 : C5/C1)…………………. 493–553 sq ft
PACKAGE SIZE 3………. ( R1 : C3/C2)…………………. 2043–2303 sq ft
PACKAGE SIZE 3………. ( R1 : C5/C1)…………………. 2238–2523 sq ft
Hawk Epoxy Video Tutorials