Hard, Modified Epoxy – 2100 Series
Sea Hawk's top-of-the-line hard antifouling paint contains over 75% cuprous oxide. This multi-season bottom paint aggressively combats ALL types of fouling and reduces hull maintenance with year-round, trouble free performance. Superior adhesion to fiberglass, wood and steel hulls makes it ideal for any vessel. Use for over coating, without the fear of lifting.
Highest quality grade of cuprous oxide available (more potent active ingredient)
Highest copper content in the Industry (75.8%)
Better color consistency for color matching
Consistent viscosity = better flow and rolling ability
---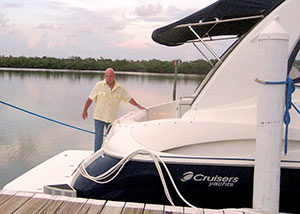 "My boat stays in the water, and since the application of Tropikote there has never been hard growth on the hull bottom. Almost four years after the original bottom job, 95% of the bottom paint is still intact and will require only light sanding. We will recoat with two coats of Tropikote Black. I could not be happier with Sea Hawk products and your customer support. We will use nothing but Sea Hawk Paints!
Thank you for your dedication to superior marine products and customer service."
Bill Webb
Punta Gorda, FL
---
For detailed technical information about this product please download the documents listed below:
Material Safety Data Sheet (MSDS Sheet) and Safety Data Sheet (SDS) covers regulatory information including physical data, hazardous ingredients list, safety precautions, storage, handling, spill and disposal procedures, and other important safety information.
Technical Data Sheet (Tech Sheet) contains detailed product information, including application specifications and guidelines.
Three Ways to Buy Sea Hawk Paint
Locate a Certified Applicator

Find a Sea Hawk Certified Applicator near you to apply your selected antifouling paint system. Sea Hawk Certified Applicators provide the highest standards in bottom paint application and are the only boatyards to offer our Antifouling Paint Written Guarantee.

Find a Retail Location

Locate a Sea Hawk Retail Dealer to purchase your Sea Hawk products at retail store near you.

Contact Sea Hawk

Call us toll free at 1.800.528.0997 (U.S. and Canada) or 1.727.523.8053 (Local and International). You can also contact us online or send us an email and we can help you find where to purchase our products.