VMG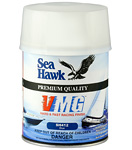 Available Colors:
Due to computer monitor color calibration differences, color swatches may not accurately represent the actual paint color.
Fresh Water Racing Finish
VMG Hard & Fast Racing Finish is a revolutionary new bottom coating geared specifically for fresh water sail boaters and power boaters looking to enhance the performance of their vessels. VMG, earning its designation from the yacht racing acronym for Velocity Made Good, is specifically formulated and crafted to provide fresh water boaters with an added edge in maximizing velocity while protecting their vessels hulls. Enhanced with PTFE (Polytetrafluoroethylene), VMG Hard & Fast Racing Finish exhibits one of the lowest coefficients of friction while its copper-free formulation ensures colors stay vivid and true over time. Compatibility with many older fresh water bottom coatings enables boaters to apply VMG directly over Interlux *VC17 and Pettit **SR-21 without stripping their hulls.
PTFE enhanced for reduced drag
Colors stay true
Compatible with VC17 and SR-21
Fresh water use only
* Products noted as such are registered Trademarks of, or sold by Interlux, and or Akzo Nobel.
** Products noted as such are registered Trademarks of, or sold by Petit (KopCoat), and or RPM International, Inc.
For detailed technical information about this product please download the documents listed below:
Material Safety Data Sheet (MSDS Sheet) and Safety Data Sheet (SDS) covers regulatory information including physical data, hazardous ingredients list, safety precautions, storage, handling, spill and disposal procedures, and other important safety information.
Technical Data Sheet (Tech Sheet) contains detailed product information, including application specifications and guidelines.
Three Ways to Buy Sea Hawk Paint
Locate a Certified Applicator

Find a Sea Hawk Certified Applicator near you to apply your selected antifouling paint system. Sea Hawk Certified Applicators provide the highest standards in bottom paint application and are the only boatyards to offer our Antifouling Paint Written Guarantee.

Find a Retail Location

Locate a Sea Hawk Retail Dealer to purchase your Sea Hawk products at retail store near you.

Contact Sea Hawk

Call us toll free at 1.800.528.0997 (U.S. and Canada) or 1.727.523.8053 (Local and International). You can also contact us online or send us an email and we can help you find where to purchase our products.