PS - BARRANQUILLA CARNIVAL, WE LOVE YOU!
August 14, 2015
Post from Sea Hawk's traveling cruisers.
By Bill and JoAnne Harris
We have been cruising for almost seven years now, and almost all of our time has been spent exploring the Caribbean. During both of our fun-filled hurricane seasons at Port Louis Marina in Grenada, we joined the Comancheros Carnival Band and purchased beautiful, locally and professionally made "Pretty Mas" costumes complete with feathers, beads, sequins and more, and danced our way for miles through the streets of St. George's, past the tons of spectators and the judges. The Band was fantastic to work with and in both years we participated, the Comancheros won first place! We knew that more Caribbean Carnivals would be in our future.
We are currently aboard our trimaran sailboat, Ultra, at the Bocas Yacht Club & Marina in Bocas del Toro, Panama. It provides beautiful docks, a restaurant, laundry service and fuel, free water shuttle service to town, and a shipyard nearby. We had our sights set on sailing to Colombia from here, but the weather and sea conditions are not always suitable to do so. Instead of waiting for several months for a weather and sea window, we decided to leave Ultra in the marina and explore Colombia for a month by land.
We flew to Cartagena and spent eight fun-filled days there. Many cruisers stay at the popular Club Náutico Marina; there is also a large anchorage in the harbor. From there we headed to Santa Marta. The exceptionally nice marina, IGY Marina Santa Marta, provides clients with an excellent staff, incredible docks for an array of vessels, 24-hour security, restaurant, mini-mart, captain and crew lounge, a beautiful fitness center nearby, laundry service and fuel, great beaches, and more. While based there, cruisers can explore the beautiful bays nearby with their boats. After our five-day exploration of Santa Marta, which included an exhilarating 12-hour Tayrona Park hike of scampering over mammoth-sized boulders from the mountains down to the pristine beaches, we were off to Barranquilla.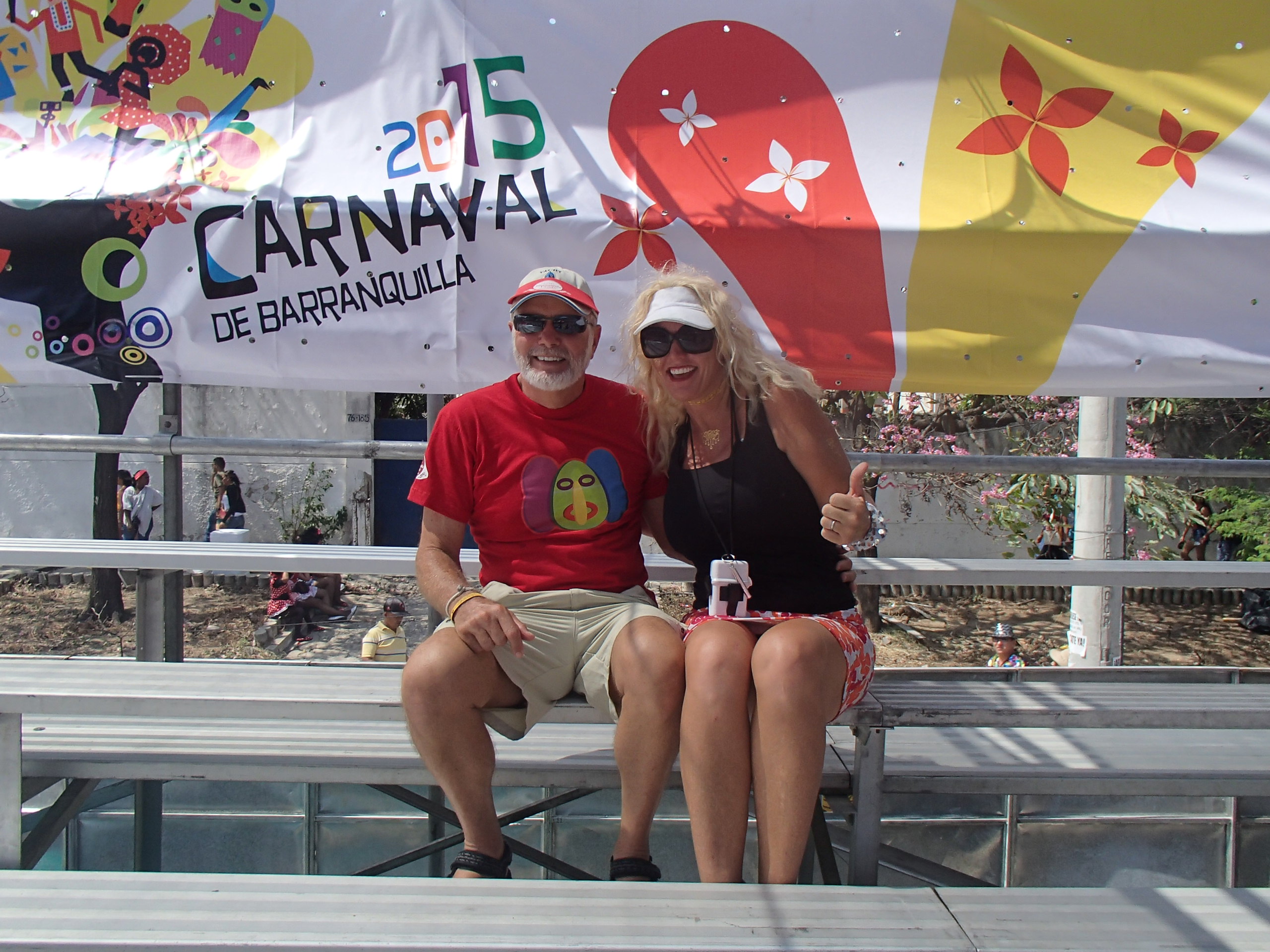 Why Barranquilla?
We had squeezed four days into our packed Colombian itinerary to spend in this port city, to experience a once-in-a-lifetime opportunity. Barranquilla hosts the second largest Carnival in the world. (The only one bigger is Brazil's legendary Carnival in Rio de Janeiro.) The Congress of Colombia designated it as a Cultural Masterpiece, and UNESCO lists it as one of the Masterpieces of the Oral and Intangible Heritage of Humanity. It is an amazing blend of African, Latin and Indian cultures and more. It also happened to coincide with the long Valentine's Day weekend!
We hopped on a two-hour bus ride from Santa Marta to Barranquilla. The bus is supposed to provide "door to door" service, but because of the traffic, the driver had to drop us off about 12 blocks from our hotel. It was impossible to get a taxi until we got within five blocks of the hotel. We had traveled light, but trying to make our way through sidewalk stands and seas of people making their last-minute purchases for the BIG holiday weekend, was super crazy.
Upon our arrival, we were greeted by an amazing staff who offered us complimentary rum drinks and homemade Colombian candy. WOW, what hospitality! Upon check-in, we each received our welcome souvenir Carnival bag filled with a souvenir T-shirt, necklace, whistles, decorative cardboard fans, safe sex literature and three condoms! From our fifth-floor hotel room the streets were a maze of cars and people, and the air was filled with every kind of music you could imagine — we felt the beat deep in our bones. The hotel was in a great location for attending Carnival, but we could tell there would not be much sleep to be had during our stay. Never mind: the anticipation of the unforgettable event that was in store for us the following day was so exciting!
Fun in the Stands
On February 14th, we set out for a spectacular experience that should be on everyone's bucket list. To be sure there was an excellent view of everything, we reserved viewing stand (bleachers) tickets ahead of time. The seating came complete with designated food and drink vendors and bathroom facilities. Depending on your budget, there are several choices for viewing the events: standing room only, plastic chairs at ground level, or viewing stands — all without any, or not much, shade. We are on a tight cruising budget, but since we would be sitting in the sun for at least eight hours per day to watch the parades, JoAnne chose to spring for better seating arrangements that were sunburn-free. As we made our way down the street to the Carnival parade route, all of the shops were boarded up. There was only one grocery store open for several blocks. Both sides of the street were lined with booth after booth of street vendors selling food and drinks, carnival souvenirs, tattoos, and more. There were also fleets of donkey carts loaded with spectators who could not walk the countless blocks that were required. Upon arrival at the stands, we were amazed at the organized chaos of the line-up to get into the Carnival gates. We were early, so we got great seats in the bleachers and proceeded to enjoy a fantastic band performing beautiful traditional music. We were soon surrounded by wonderfully lively Colombians, and our personal space quickly became nada, but it did not matter. Everyone was exceedingly friendly and they told us they were so happy to speak to the only Americans at the event! They all wanted to take photos with us, and said it was extra special for them, since they had never met any Texans before. We had a blast, and after dancing and talking with them for hours on all four days, we felt truly blessed to have made so many life-long friends during this event.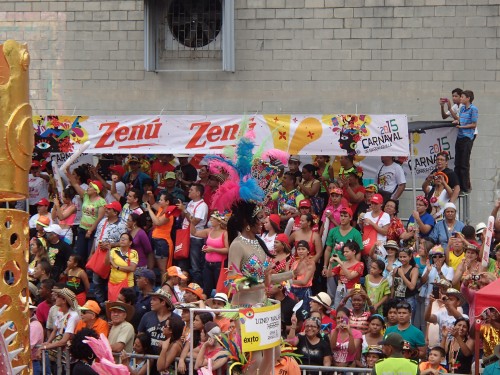 After each of the days' events, we were swept back up the street on a huge wave of people. On the way, we always got a Colombian favorite snack called an arepa. There are several different kinds, but the one that we preferred was a thick corn tortilla with a pocket inside that is filled with a raw egg, sealed up and then fried to crispy perfection. It is not healthy by any means, but at the end of a long day at Carnival, it makes for an excellent treat!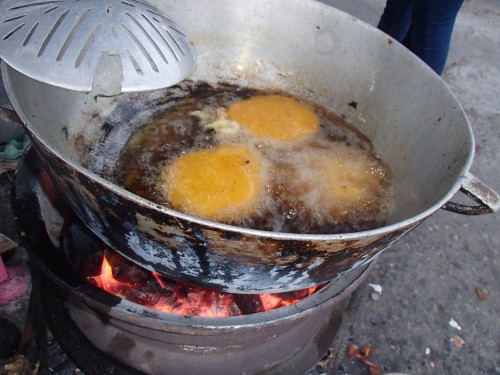 Barranquilla Town and Carnival Characters
Located at the mouth of the Magdalena River, Barranquilla is an industrial town of 1.1 million people, thriving with all kinds of manufacturing facilities. It is also the hometown of the singer Shakira, the actress Sofía Vergara, and the reigning Miss Universe, Paulina Vega. The outstanding Carnival that is celebrated in Barranquilla has also given it worldwide recognition. Although it's possible to anchor in the Magdalena River, a cleaner and safer bet is Puerto Velero, about 20 minutes away by road, where you can anchor or take a marina slip.
There are several characters represented in the Barranquilla carnival. The most famously recognized, popular, and the only character originating in Barranquilla, is La Marimonda. He wears a vest, and has extremely large ears and a very long nose. If his nose looks a little, well, for lack of another word, interesting… yes, you are correct; it represents what you think it does. This was explained to us by our Colombian friends in the stands in great detail. The other characters they explained to us were Negrita Puloy, who wears a red-and-white polka-dotted dress that was made famous by a Venezuelan laundry detergent; and Joselito Carvajal, a character who symbolizes the joy of the Carnival festivities. Joselito is "resurrected" on the Saturday of Carnival and dies on the last day, of exhaustion and a hangover.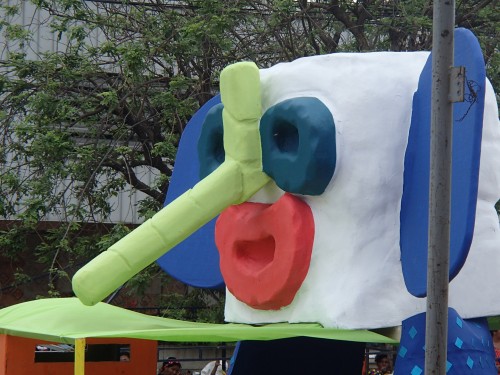 Carnival Day by Day
The first day of Carnival features the supremely colorful Battle of the Flowers, which is the traditional float parade. On the second day, The Great Parade does not feature floats, but rather numerous performers wearing masks and countless dance groups dancing their hearts out in different styles (the women impressively wearing three- or four-inch high heels). They parade for miles through the streets, competing for a spot in the next year's Battle of Flowers. On the third day there is The Fantasy Parade, with brilliantly costumed and body-painted people, and The Orchestra Festival in which bands play captivating Latin and Caribbean music. Finally, the fourth day features the parade of the Carnival character Joselito Carvajal. This is not as long or lively as the others, as the people attending mourn the coming end of the Carnival. On this day, spectators observe the burial of Joselito, who is resurrected anew each year for the carnival and dies at the end of the festivities. The parade includes "happy widows" who cry over the character's death. Throughout the entire event, attendees get sprayed with sweet-smelling white spray foam that is shot all through the crowds.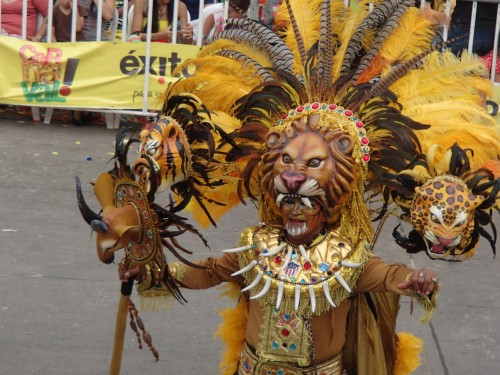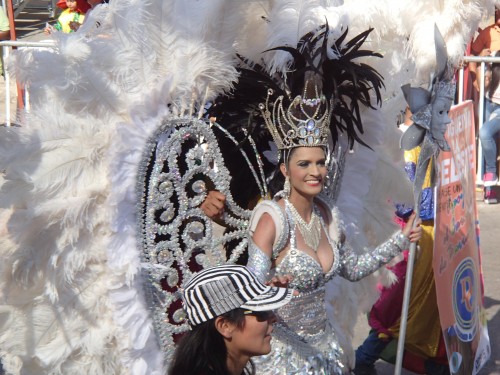 Carpe Diem!
We must tell you that as well as carnival in Grenada, we have attended or participated in Mardi Gras in New Orleans (multiple times), New Year's Eve in Key West and many other places, and other events that are comprised of huge crowds with incredible costumes, but we must say that this Carnaval de Barranquilla will always be one of the most mind-blowing experiences of our lives. It is difficult to explain, since it was more than just enormous crowds and culture. Although not one word of English was spoken (so it was a great opportunity for us to further sharpen our Spanish-speaking skills), it was non-stop fun, with friendly and helpful people, stunning costumes, and outstanding traditional dance, music, food, and more, and all the while we felt a great sense of safety and security.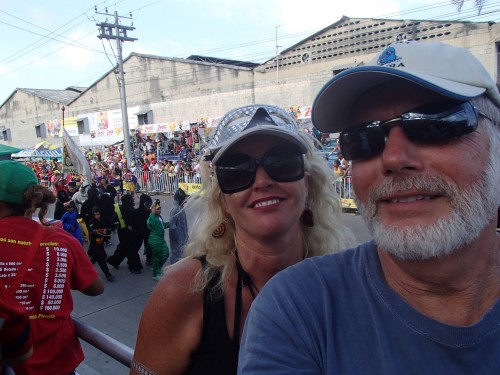 We never hesitate to totally immerse ourselves in the cultures of the countries we visit, and this was no exception. We thoroughly enjoyed visiting with the Colombians in Barranquilla and learning about their history, their culture and their way of life. It was even more meaningful, since it was all spoken in their language. Life is short, and our Barranquilla adventure was an amazing experience of a lifetime! Whether you seize the opportunity to attend a Carnival in Grenada or Colombia, or somewhere else, enjoy it!
JoAnne and Bill Harris are from Clear Lake, Texas and both hold 100-ton USCG Master licenses and sail aboard their trimaran, S/V Ultra. They enjoy writing cruising articles and sharing their experiences. To follow their adventures, checkout their blog at: www.jandbyachtultraadventure.blogspot.com