Sea Hawk Introduces Baitfish Stencils for Professional and Sportfishing Boats
April 27, 2018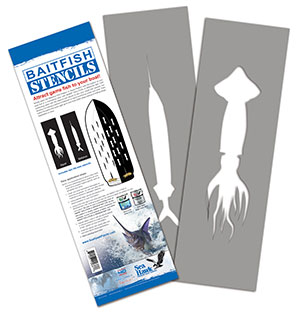 CLEARWATER, Florida – April 2, 2018 – Today Sea Hawk, the world's leading premium nautical coating brand, announced the release of Baitfish Stencils used for painting baitfish patterns, with Sea Hawk Smart Solution or Mission Bay CSF antifouling paint, onto the hulls of fishing boats. Baitfish designs are applied by professional and sport fishermen to mimic schools of bait and lure larger target fish closer to their boats. The reusable stencils are packed in kits containing both Squid and Ballyhoo baitfish silhouettes.
"While participating in catch-and-release fishing tournaments throughout the Caribbean and Central America, boat captains requested baitfish stencils for applying Sea Hawk antifouling paints to their hulls," said Erik Norrie, Sea Hawk's CEO. "We created Squid and Ballyhoo stencils to help Sea Hawk Paints customers catch more fish" Norrie added.
Sea Hawk Baitfish Stencils enable professional and sport fishermen to catch more fish in attracting game fish closer to their boats. By applying Ballyhoo or Squid Patterns onto their boat hulls, using Sea Hawk Smart Solution or Mission Bay CSF antifouling paint, with the life-size stencils, fishermen fool target fish into thinking schools of fish are swimming under their boats. Drawing them closer and making them more apt to strike baited hooks. Baitfish Stencils are yet another way that Sea Hawk Paints fulfills one of its core values: Yachtsman just want to have fun.
A trendsetter of marine bottom paints, New Nautical Coatings, Inc. and the Sea Hawk brand was established in 1978 and is dedicated to bringing only the highest quality products and customer satisfaction to today's mariner. New Nautical Coatings is family owned and operated with a commitment to excellence. It provides a wide array of application specific marine coating products that include antifouling systems, primers, solvents, and resins. Now offering innovative products globally, the Sea Hawk brand has enjoyed unprecedented growth and continues to grow as its products become more in demand worldwide. For more information, contact Michael O'Keene at (727) 523-8053 or visit www.seahawkpaints.com.
###