Sea Hawk Paints Appoints Michele Durham Operations Support Specialist
March 22, 2018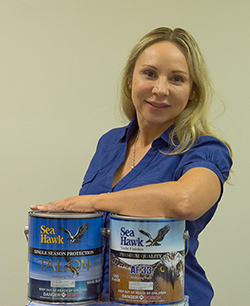 CLEARWATER, Florida – March 6, 2018 – Sea Hawk Paints today announced the appointment of Michele Durham as operations support specialist. Based at the company's headquarters in Clearwater, Florida, Durham will report to Mike Detmer, chief operating officer, Sea Hawk Paints. Her responsibilities include business process improvements consisting of enterprise resource management, key account support, pricing and purchasing analysis, order flow advancement, reporting and customer experience enhancement.
"As Sea Hawk continues to expand in the marine coatings market, well managed, constantly evolving business processes are critical to meeting the company's goals," said Erik Norrie, CEO. "Michele will leverage two decades of experience in business analytics with her MBA and project management skill set to drive the Sea Hawk brand above all others," Norrie added.
Prior to joining New Nautical Coatings, Inc. and the Sea Hawk brand, Michele spent thirteen years as senior business analyst/project manager at Ford Motor Company and four years as IT analyst/coordinator with Blue Cross Blue Shield. Michele holds a MBA from Baker College's Center for Graduate Studies and was honorably discharged from the Army with top-secret/secret-background investigation security clearance.
A trendsetter of marine bottom paints, New Nautical Coatings, Inc. and the Sea Hawk brand was established in 1978 and is dedicated to bringing only the highest quality products and customer satisfaction to today's mariner. New Nautical Coatings is family owned and operated with a commitment to excellence. It provides a wide array of application specific marine coating products that include antifouling systems, primers, solvents, and resins. Now offering innovative products globally, the Sea Hawk brand has enjoyed unprecedented growth and continues to grow as its products become more in demand worldwide. For more information, contact Michael O'Keene at (727) 523-8053, MichaelOKeene@SeaHawkPaint.com or visit www.seahawkpaints.com.
###