Sea Hawk Paints Appoints Patrick Harker Field Sales Representative
February 20, 2018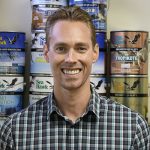 CLEARWATER, Florida – January 18, 2018 – New Nautical Coatings, Inc. today announced the appointment of Patrick Harker to field sales representative for its South Florida territory. Based in Deerfield Beach, Florida, Harker will report to Tommy Craft, vice president of sales, Sea Hawk Paints. His responsibilities include sales, technical support, customer training and executing new business development initiatives.
"As Sea Hawk continues to expand in the premium yacht coatings market, well managed sales operations and expansion in the South Florida market is critical to meeting our growth goals," said Erik Norrie, Sea Hawk CEO. "Patrick brings the ideal blend of experience, education and a dynamic attitude that is certain to ignite our expanding business in South Florida," Norrie added.
Prior to joining New Nautical Coatings, Inc. and the Sea Hawk brand, Patrick headed regional sales for Absolute Coatings Group marine, pool and E-commerce. Before that he spent five years as a manager at Citrix Systems. Patrick holds a Bachelor of Science in Business Administration from the University of North Carolina-Wilmington and a Master of Business Administration from the H. Wayne Huizenga School of Business & Entrepreneurship.
A trendsetter of marine bottom paints, New Nautical Coatings, Inc. and the Sea Hawk brand was established in 1978 and is dedicated to bringing only the highest quality products and customer satisfaction to today's mariner. New Nautical Coatings is family owned and operated with a commitment to excellence. It provides a wide array of application specific marine coating products that include antifouling systems, primers, solvents, and resins. Now offering innovative products globally, the Sea Hawk brand has enjoyed unprecedented growth and continues to grow as its products become more in demand worldwide. For more information, contact Michael O'Keene at (727) 523-8053 or visit www.seahawkpaints.com.