Sea Hawk Paints Introduces Online Portal For Certified Paint Application Declaration
October 17, 2016
CLEARWATER, Fla. – October 13, 2016 – Today Sea Hawk, the world's leading premium nautical coating brand, announced the introduction of an online portal for Certified Paint Application Declaration (CPAD) documentation. A CPAD documents the application of the Sea Hawk antifouling paint that is applied by a Sea Hawk Paint Certified Boatyard/Applicator. The new, easy-to-use online portal enables Sea Hawk's world-wide network of Certified Boatyards/Applicators to document the application of Sea Hawk bottom paint and primers providing quick recall of paint application details like the application date, location of application and the Certified Boatyard/Applicator who performed the work. The CPAD is unique to Sea Hawk as a value-added tool that gives vessel owners a complete overview of the work performed and the products applied for inclusion in their vessel maintenance logs.
"Sea Hawk's mission is to provide boat owners around the world with the highest quality, most pleasurable to use solutions for protecting their vessel," said Erik Norrie, Sea Hawk CEO. "The new online portal for Certified Paint Application Declaration is yet another way that Sea Hawk provides boat owners and boatyards added value above-and-beyond the competition," Norrie added.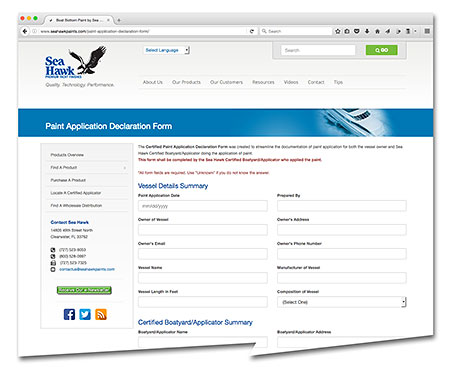 Both the Vessel Owner and the Sea Hawk Certified Boatyard/Applicator benefit from using the online portal to complete a CPAD. When a CPAD is submitted through the online portal the Vessel Owner and Boatyard/Applicator will instantly receive copies of the Certified Paint Applicator Declaration for their records via e-mail. The CPAD is completed by a Sea Hawk Certified Boatyard/Applicator and records important facts about the bottom job including Vessel/Vessel Owner details and Boatyard/Applicator details, Boatyard/Applicator recommendations, the date and details of work done including primer and paint application. The online portal for CPAD can be accessed easily from the Resources pull down tab on the Sea Hawk website www.seahawkpaints.com.
A trendsetter of marine bottom paints, New Nautical Coatings, Inc. and the Sea Hawk brand, were established in 1978 and are dedicated to bringing only the highest quality products and customer satisfaction to today's mariner. New Nautical Coatings is family owned and operated with a commitment to excellence. It provides a wide array of application-specific marine coating products that include: antifouling systems, primers, solvents, and resins. Now offering innovative products globally, the Sea Hawk brand has enjoyed unprecedented growth and continues to grow as its products become more in demand worldwide. For more information, contact Michael O'Keene at +1 (727) 523-8053 and MichaelOKeene@SeaHawkPaints.com or visit www.seahawkpaints.com.