Sea Hawk Paints Introduces Premium Epoxy Protection for Non-Optimal Surfaces
April 11, 2019
Today Sea Hawk, the world's leading premium nautical coating brand, announced the introduction of a new multi-purpose, surface tolerant, two-part epoxy coating system for protecting ships, offshore marine structures, tanks, pipes and new marine construction projects. Formulated specifically for coating non-optimal surfaces, 1241 Surface Tolerant Epoxy Coating System™ provides excellent chemical and abrasion resistance for marine vessels and offshore structures above and below the waterline. Its chemically-cured formulation allows application at low temperatures, and to damp surfaces, even those exhibiting flash rust. 1241 cures to a semi-gloss finish for use in tank linings or on pipe coatings. Its self-priming nature provides an excellent surface for ship and barge antifouling hull coatings.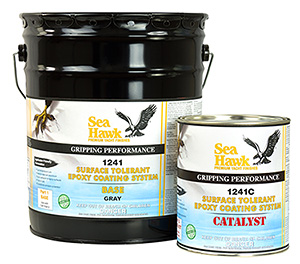 "At Sea Hawk, expertise is the root of our innovation," said Erik Norrie, Sea Hawk CEO. "The new 1241 Surface Tolerant Epoxy Coating System is yet another way that Sea Hawk provides marine service professionals and contractors the highest quality solutions they need to protect and enhance the longevity and performance of their marine vessels and structures," Norrie added.
Sea Hawk 1241 is a multi-purpose, surface tolerant, two-part epoxy coating system which provides exceptional corrosion protection in both salt and fresh water immersion and corrosive chemical environments for multiple uses on ships, marine structures, in fabrication and during new marine construction projects. Its formulation reduces surface preparation time and cost, and its low temperature cure allows application to zero degrees Fahrenheit (-18°C). Quick drying provides fast re-coating and Low VOCs comply with rigid state and local limitations. Sea Hawk 1241 is handcrafted in America, available in semi-gloss gray finish and sold in two parts, base and catalyst, through Sea Hawk authorized distributors and retailers worldwide.
A trendsetter of marine bottom paints, New Nautical Coatings, Inc. and the Sea Hawk brand was established in 1978 and is dedicated to bringing only the highest quality products and customer satisfaction to today's mariner. New Nautical Coatings is family owned and operated with a commitment to excellence. It provides a wide array of application specific marine coating products that include antifouling systems, primers, solvents, and resins. Now offering innovative products globally, the Sea Hawk brand has enjoyed unprecedented growth and continues to grow as its products become more in demand worldwide. For more information, contact Michael O'Keene at MichaelOKeene@SeaHawkPaints.com and (727) 523-8053 or visit www.seahawkpaints.com.
###