Sea Hawk Paints Mounts Caribbean Islands Family Tour
April 7, 2016
CLEARWATER, Fla. – April 4, 2016 – Today Sea Hawk, the world's leading premium nautical coating brand, announced a 10-country tour that will take the form of Customer Advisory Meetings with prominent marine equipment distributors, boat builders and marine service centers throughout the Caribbean. The Caribbean Islands Family Tour and Customer Advisory Meetings involve experienced dealers and marine service experts who work directly with Sea Hawk to provide feedback and improve collaboration with the marine dealer community. Sea Hawk will develop major products, programs and policies with input from Caribbean Customer Advisory Meeting participants, as well as review progress in their recently introduced Islands Family Antifouling Solutions Campaign. The Sea Hawk Caribbean Customer Advisory Meetings are led by David and Erik Norrie, Sea Hawk's president and CEO respectively, each being 25-year marine industry veterans.
"The Sea Hawk Islands Family Tour and Caribbean Customer Advisory Meetings are an essential element in Sea Hawk's mission to provide boat owners around the world with the highest quality solutions for protecting and enhancing their vessels," said Erik Norrie. "We value the mutually beneficial relationship with top Caribbean marine professionals and considered their input in developing our Islands Family Antifouling Solutions Campaign," Norrie added.
The Sea Hawk Caribbean Islands Family Tour will include Customer Advisory members who represent the core of the Caribbean marine sales and service industry and will host meetings in Tortola, Virgin Gorda, St. Maarten, St. Lucia, Grenada, Trinidad, Martinique, Antigua, St. Thomas, Puerto Rico and the Dominican Republic. Caribbean Customer Advisory members represent a diverse cross section of dealers, distributors and marine service professionals to ensure Sea Hawk captures a broad range of ideas during the events.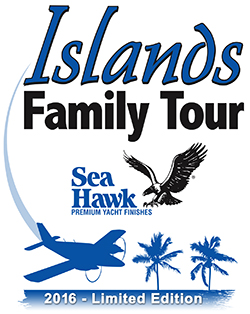 The Sea Hawk Islands Family Antifouling Solutions Campaign provides Caribbean boat owners with multi-biocide antifouling power in the form of three multi-biocide bottom paints and three application- specific primers. Islands 44 Plus is the largest selling bottom paint in the Caribbean due to its triple-biocide performance. Islands 77 Plus delivers potent dual-biocide antifouling power from a formula that is registered in the USA and Lloyd's Registry certified. Islands 99 Plus provides both sail and power boaters effective dual-biocide antifouling power at a value price point. Like all Sea Hawk paints, Islands Family coatings are handcrafted in America in small batches by impassioned chemists and experienced paint artisans.
A trendsetter of marine bottom paints, New Nautical Coatings, Inc. and the Sea Hawk brand were established in 1978 and are dedicated to bringing only the highest quality products and customer satisfaction to today's mariner. New Nautical Coatings is family owned and operated with a commitment to excellence. It provides a wide array of application-specific marine coating products that include: antifouling systems, primers, solvents, and resins. Now offering innovative products globally, the Sea Hawk brand has enjoyed unprecedented growth and continues to grow as its products become more in demand worldwide. For more information, contact Michael O'Keene at +1 (727) 523-8053 and MichaelOKeene@SeaHawkPaints.com or visit www.seahawkpaints.com.