Sea Hawk Provides Fresh Water Boaters Hard, Fast Racing Finish
February 2, 2016
CLEARWATER, Fla. – Feb. 1, 2016 – Today Sea Hawk, the world's leading premium nautical coating brand, announced the introduction of VMG Hard & Fast Racing Finish, a revolutionary new bottom coating geared specifically for fresh water sail boaters and power boaters looking to enhance the performance of their vessels. VMG, earning its designation from the yacht racing acronym for Velocity Made Good, is specifically formulated and crafted to provide fresh water boaters with an added edge in maximizing velocity while protecting their vessels hulls. Enhanced with PTFE (Polytetrafluoroethylene), VMG Hard & Fast Racing Finish exhibits one of the lowest coefficients of friction while its copper-free formulation ensures colors stay vivid and true over time. Compatibility with older fresh water bottom coatings enables boaters to apply VMG directly over Interlux VC17 and Pettit SR-21 without stripping their hulls.
"Sea Hawk's mission is to provide the highest of quality, applications specific bottom paints," said Erik Norrie, Sea Hawk CEO. "Sea Hawk's new VMG Fast & Hard Racing Finish is specifically formulated to help fresh water boaters increase their velocity while protecting the hull of their vessels," Norrie added.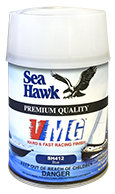 VMG Hard & Fast Racing Finish is a specialty hull coating that reduces drag to maximize vessel velocity while providing a layer of protection. Packaged in quarts with an alloy powder additive, VMG goes on easily and dries quickly. Under normal conditions VMG can last up to three years and works equally well on vessels that are kept in and out of water. Because VMG contains no copper its colors stay bright and true. VMG is available in Jet Black, Red, Gun Metal Gray, Blue and Bronze colors and can be purchased through discerning Sea Hawk authorized distributors and retailers worldwide.
A trendsetter of marine bottom paints, New Nautical Coatings, Inc. and the Sea Hawk brand was established in 1978 and is dedicated to bringing only the highest quality products and customer satisfaction to today's mariner. New Nautical Coatings is family owned and operated with a commitment to excellence. It provides a wide array of application specific marine coating products that include antifouling systems, primers, solvents, and resins. Now offering innovative products globally, the Sea Hawk brand has enjoyed unprecedented growth and continues to grow as its products become more in demand worldwide. For more information, contact Michael O'Keene at +1 (727) 523-8053 and MichaelOKeene@SeaHawkPaints.com or visit www.SeaHawkPaints.com.