Sea Hawk Provides Professionals and DIYers LOW VOC Marine Barrier System
December 4, 2015
CLEARWATER, Florida, December 4, 2015  /News Release/ — Today Sea Hawk, the world's leading premium nautical coating brand, announced the introduction of new LOW VOC versions of its Tuff Stuff Premium Blister Protection System. The new Tuff Stuff LOW VOC products comply with rigid VOC limits set by the California Air Quality Management Board and offer marine service professionals and do-it-yourselfers a LOW VOC alternative when applying water barrier or corrosion protection coatings to their vessels. Yielding the same superior results as the original Tuff Stuff products, the new Tuff Stuff LOW VOC is extremely effective for blister protection on fiberglass or as a bilge coating because of its resistance to both water and oil. As a universal primer Tuff Stuff LOW VOC can be used for corrosion protection on most metals below the waterline and for priming any metal surface.
"At Sea Hawk, expertise is the root of our innovation," said Erik Norrie, Sea Hawk CEO. "The new Tuff Stuff LOW VOC line is one way in which we provide marine service professionals and do-it-yourselfers the solutions they need to protect and enhance the longevity and performance of their vessels while preserving the air quality for all," Norrie added.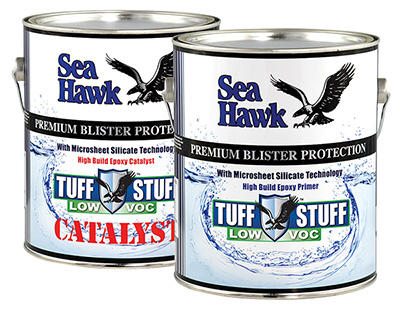 Tuff Stuff LOW VOC is an extremely high-build two-part epoxy system that dries fast, enabling application of a complete barrier system and bottom paint to most vessel hulls in just two days saving boat owners time and money while minimizing VOC emissions to preserve air quality. Its unique formula uses microsheet silicate technology where millions of microscopic sheets overlap and build a 100% water barrier that protects the applied surface from water migration. Ideal for priming propellers, shafts, keels, trim tabs, thru hulls and lower drive units, Tuff Stuff LOW VOC is packaged in one-gallon kits in both white and gray colors. Tuff Stuff LOW VOC can be purchased through discerning Sea Hawk authorized distributors and retailers worldwide.
A trendsetter of marine bottom paints, New Nautical Coatings, Inc. and the Sea Hawk brand was established in 1978 and is dedicated to bringing only the highest quality products and customer satisfaction to today's mariner. New Nautical Coatings is family owned and operated with a commitment to excellence. It provides a wide array of application specific marine coating products that include antifouling systems, primers, solvents, and resins. Now offering innovative products globally, the Sea Hawk brand has enjoyed unprecedented growth and continues to grow as its products become more in demand worldwide. For more information, contact Michael O'Keene at (727) 523-8053 and MichaelOKeene@SeaHawkPaints.com or visit www.SeaHawkPaints.com