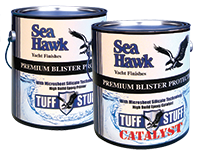 Here are some great tips to aid you in performing the best application of Tuff Stuff High Build Epoxy Primer. Please also consult the Tuff Stuff Technical Data Sheet for more detailed information.
Remove ALL bottom paint residue completely
Prep hull to an 80 grit profile
Wipe hull clean with Sea Hawk S80 or 2044
Tape hull off 3 to 4 times
Use a quality 3/8" nap roller cover; Wooster, Doozie, or Candy Stripe.
Shake both part A and B on a mechanical shaker before mixing 1:1
Stir occasionally during the 20-30 minute induction time
Start at the lowest point of the hull and work your way up and forward.
Roll additional coats perpendicular to previous coats. This eliminates lap marks.
Have painters switch sides on each coat. You will wind up with an even film thickness and a consistent looking bottom.
Check WFT on the hull at even intervals and document.
Pull a layer of tape away after each coat.
Apply your last coat of epoxy and your first coat of bottom paint in the same day.
Leave a 4" swath around stands and blocking without paint.
Allow a minimum of 48 hours before moving blocking or stands.
Allow 72 hours total cure before launch.