Tuff Stuff™ Premium Blister Protection New Labeling
March 1, 2010
Sea Hawk Paints has just released a new product to combat blister development on fiberglass boats.
CLEARWATER, FL – (March, 2010) Sea Hawk Paints has just released a new look for its product Tuff Stuff High Build Epoxy Primer. Used to combat blister development on fiberglass boats, Tuff Stuff™ high-build epoxy primer uses microsheet silicate technology and is the highest build epoxy primer on the market today.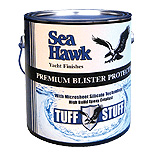 Tuff Stuff can be used over blistered fiberglass as a repair coat, and over unblistered fiberglass as a barrier coat. It protects metals from corrosion, is easy to apply and enables application of a complete barrier system and bottom paint in just two days. Its 1:1 mixing ratio makes it efficient for jobs of all sizes. "Tuff Stuff is extremely effective for blister prevention because it is resistant to oil and water," announced Erik Norrie, President and CEO of New Nautical Coatings, the company that manufactures Sea Hawk Paints. "The microsheet silicate technology means millions of microscopic sheets overlap and build a 100% water barrier, protecting the surface from moisture and water penetration," he said. Tuff Stuff is available by the 1/2 gallon and 2 gallon kits in light gray and white.
About New Nautical Coatings, Inc.
A trendsetter of marine bottom paints, New Nautical Coatings, Inc. was established in 1978 and is dedicated to bringing only the highest quality products and customer satisfaction to today's mariner. New Nautical Coatings is family owned and operated with a commitment to excellence. They offer wide array of products that include antifouling systems, primers, solvents, and resins. Now offering innovative products globally, the Sea Hawk brand has enjoyed unprecedented growth and continues to grow as its products become more in demand worldwide. For more information, contact Jason Revie at 800-528-0997 or visit www.seahawkpaints.com.
Contact Information
New Nautical Coatings, Inc.
14805 49th Street North
Clearwater, FL 33672
Marketing
contactus@SeaHawkPaints.com
(727) 523-8053