Cukote"s high loading of cuprous oxide makes this formulation a top performer, even in the most severe fouling areas. As an ablative, self-polishing coating, there is no buildup of bottom paint over time. Your hull's underwater surface remains smooth and clean. Cukote copolymer can also withstand removal from water without affecting its antifouling properties. Cukote is the premium self-polishing antifouling paint that has established the standard in the industry.
Semi-hard, self-polishing ablative finish
Multi-season performance on pleasure boats and commercial vessels
Removing boat from water does not affect antifouling properties
No TBT (organotin compounds)
47.5% cuprous oxide
Effective below the waterline on fiberglass, steel and wood vessels
Lloyd's Registry certified
Sea Hawk Racing Finish Overview – Biocop TF and Cukote (download PDF file now!)
Exceptional racing finish paints AND superior antifouling protection.
---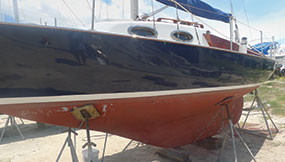 "Four years ago I commissioned the refit of a 1965 Pearson Commander at Gulf Coast Complete in Kemah, Texas. Dave Whelan, the President, recommended that we use Sea Hawk's Cukote antifouling on the hull bottom. After 40 yrs of salt water sailing and too many boats to mention here, I must say that I had not heard of Sea Hawk Paints.
I hauled the boat for the first time and really expected to see a mess. What a surprise. After a light pressure wash to remove a light layer of slime, the bottom looked like it could go right back in the water. I can't tell you how pleased I am with this paint. While Rockport,Texas, is noted for some of the toughest salt water hull growth conditions along the coast, it was no match for Cukote.
Thank You! Thank You! Thank You!"
Chip Puhl
Rockport, Texas
For detailed technical information about this product please download the documents listed below:
Material Safety Data Sheet (MSDS Sheet) and Safety Data Sheet (SDS) covers regulatory information including physical data, hazardous ingredients list, safety precautions, storage, handling, spill and disposal procedures, and other important safety information.
Technical Data Sheet (Tech Sheet) contains detailed product information, including application specifications and guidelines.
Three Ways to Buy Sea Hawk Paint
Locate a Certified Applicator

Find a Sea Hawk Certified Applicator near you to apply your selected antifouling paint system. Sea Hawk Certified Applicators provide the highest standards in bottom paint application and are the only boatyards to offer our Antifouling Paint Written Guarantee.

Find a Retail Location

Locate a Sea Hawk Retail Dealer to purchase your Sea Hawk products at retail store near you.

Contact Sea Hawk

Call us toll free at 1.800.528.0997 (U.S. and Canada) or 1.727.523.8053 (Local and International). You can also contact us online or send us an email and we can help you find where to purchase our products.